Sophisticated Style Reigns at This Artful Abode
Featured in Phoenix Home & Garden
After spending most of her adult years away from her home state, an Arizona native returns and creates a home that celebrates desert living.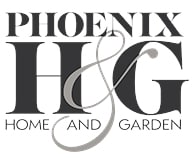 Photography by Michael Woodall
"The most important part of the job was to have the backyard pool and landscape enhance, not detract from, the already beautiful surroundings," LaCombe explains. "We didn't introduce too many new materials, if any." The most standout elements of his design are the pool, spa and fire pit, as well as the brick-and-grass paving composition made up of strips of synthetic turf separating blocks of herringbone-placed bricks. "Cynthia saw this in a photo and I loved the idea, so we ran with it." The challenging part, he admits, was the math. "Making all of the turf joints and bricks the correct size for usability as well as aesthetics so that you don't end up with awkward slivers of material definitely took some doing."
Contact Us today and let DSOE make a beautiful place for you all to gather!